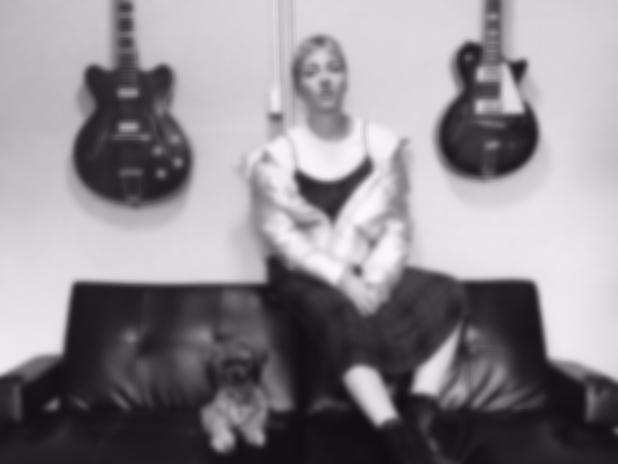 "I like my pop music a little bit weird. I like it to challenge, to push the envelope a little bit — not just repeat what's gone before"
- FEMME -
Growing up in Rugby, FEMME — real name Laura Bettinson — learned piano, and devoured the "massive female voices" passed on to her by her parents and grandparents: Doris Day, Dusty Springfield, Aretha Franklin, and Carole King. As a teenager, that love merged with an ear for indie bands and catchy melodies, including anything from Smashing Pumpkins to Sean Paul. By the time she was studying Popular Music at London's Goldsmiths University, she discovered performance artists like Laurie Anderson and Klaus Nomi, and delved into the back catalogue of Bjork. From all this, she emerged as an artist with several sides: performer, producer, writer, voice.
Bettinson first decided to learn how to create electronic loops live when it became too much of a nuisance to drag her keyboard to the pub gigs she played while at university. From there, she learned how to produce her own songs in Logic, and it quickly became the backbone of her writing process.
Bettinson began creating her own firebrand of "bold, ballsy pop music." Her 2014 single "Fever Boy" cleanly blended influences from M.I.A., Santigold, and 1960s girl groups, and found a fan in Charli XCX — who invited FEMME to accompany her on a six-week US tour — and several major labels. But Bettinson found herself uninterested in the executives who wanted to mould her project, and stuck to her independent path. In 2016, she self-released the scrappy, sharp-edged alt-pop album Debutante, a tour-de-force of hooks and beats designed to make you bounce around your bedroom.
Today, she's preparing to release a string of self-produced new singles that land somewhere between the pop explosion of Debutante and the more intricate electronic experiments of Ultraísta.
Releases include brassy garage-inflected tune 'Fire With Fire,' summer house tune 'Angel' and 'Little Bit,' which "digs into the more introspective side of Bettinson's production."
Management: dangarber@taperec.com / dc@taperec.com